With less than 3 months left for the Rio 2016 Olympics to kick off, India will be sending its first ever largest contingent to Rio. This would also mean, a better chance to bag more number of medals and improve upon our last time's count of 12. A total of 90 athletes have qualified for the Games.
Salman Khan, Sachin Tendulkar and Abhinav Bindra have been named for Indian contingent's goodwill ambassadors of the Rio Olympics. Since the Bollywood superstar has a huge fan-base and is quite a popular face, he was considered as the perfect choice to lead the national campaign and inspire our athletes to bag gold medals and bring glory to the country. These days Bollywood superstar Salmaan Khanhas been quite active on Twitter in order to show his supports for the Indian athletes through his Twitter handle and urging people to show their support for Team India!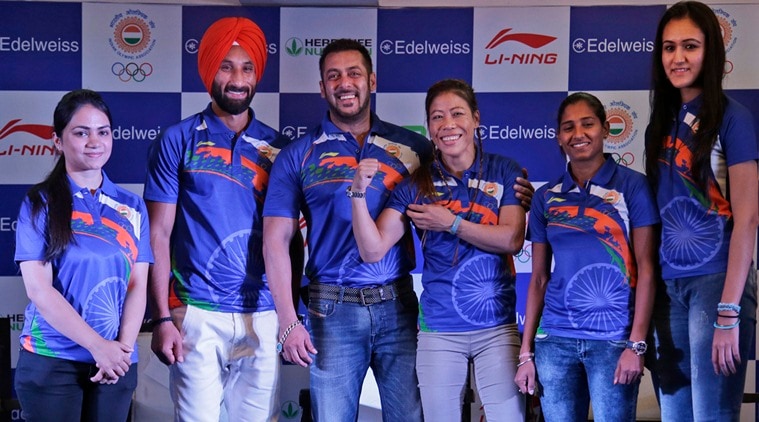 Leveraging on online platforms, a number of campaigns have come into effect. The objective of these campaigns is to support our athletes by crowd-sourcing, sending motivating messages; cheering videos etc. encouraging them to give a powerful performance at the Rio Olympics. Based on a similar concept,The OGQ, i.e. The Olympic Gold Quest is a program that aims to power the Indian athletes at the Olympics, helping them win Olympic Gold medals. OGQ aims to create a level playing field for our athletes to enable them to be competitive at the highest level of sport.Here's a message by our athletes, who want your love, support and power! Click on the link below and
#PowerOurChampions!
You can make a difference by cheering for the athletes through many ways like sending your artwork, videos and songs, and signature campaigns. Find the link below and support India at the Rio Olympics 2016!
In order to improve the medal tally, the Indian Government has formulated the 'Target Olympic Podium Scheme' (TOP Scheme). The scheme will be funded by the National Sports Development Fund. This scheme aims at providing financial assistance to a number of athletes who the government would have identified as potential medal prospects. A total of 90 sportspersons including nine Para athletes have been identified to be funded under this scheme. Financial assistance is being provided for customized training and other support after scrutiny of the proposals from them.
Similarly many privately run crowd-funding campaigns like BitGiving, India for Sports have sprung up in order to support various athletes who are struggling for finances off-field.
Choose your favorite campaign which you think you can connect to and support for India's athletes! If there was ever a time to support Indian athletes, it is NOW
Here's a list of some of the sport stars who have made the cut.
Events
Athletes
Wrestling
Vinesh Phogat
Sakshi Malik
Archery (Women's)
Deepika Kumari (Individual and team)
Laxmi Rani Majhi (Individual and team)
Rimi Biruily (Individual and team)
Archery (Men's)
Mangal Singh Champia (Individual)
Athletics (Track Events)
Thonakal Gopi (Marathon)
Sandeep Kumar (50 km walk)
Kheta Ram (Marathon)
Manish Singh Rawat (50 km walk)
Nitender Singh Rawat (Marathon)
Baljinder Singh (20 km walk)
Gurmeet Singh (20 km walk)
Irfan Kolothum Thodi (20 km walk)
Tintu Luka (800 m)
Lalita Babar (3000 m steeplechase)
Khushbir Kaur (20 km walk)
Sapna Punia (20 km walk)
Kavita Raut (Marathon)
Sudha Singh (Marathon)
OP Jaisha (Marathon)
Lalita Babar (Marathon)
Athletics (Field events)
Vikas Gowda (Discus throw)
Inderjeet Singh (Shot put)
Manpreet Kaur (Shot put)
Boxing
Shiva Thapa (Bantam weight)
Hockey
Men's Team
Women's Team
Gymnastics
Dipa Karmakar (Artistic)
Rowing
Dattu Baban Bhokanal (Single Sculls)
Shooting
Abhinav Bindra ()10 m air rifle
Kynan Chenai (Trap)
Mairaj Ahmad Khan (Skeet)
Prakash Nanjappa (50 m pistol)
Gagan Narang (10 m air rifle, 50 m rifle prone, 50 m rifle 3 positions)
Jitu Rai (10 m air pistol, 50 m pistol)
Chain Singh (50 m rifle prone, 50 m rifle 3 positions)
Manavjit Singh Sandhu (10 m air pistol, 25 m rapid fire pistol)
Apurvi Chandela (10 m air rifle)
Ayonika Paul (10 m air rifle)
Heena Sidhu (10 m air pistol, 25 m pistol)
Table Tennis
Sharath Kamal Achanta (Men's Singles)
Soumyajit Ghosh (Men's Singles)
Manika Batra (Women's Singles)
Mouma Das (Women's Singles)
Wresting (Freestyle)
Sandeep Tomar (57 kg)
Yogeshwar Dutt (65 kg)
Narsingh Pancham Yadav (74 Kg)
Wrestling (Greco-Roman)
Hardeep Singh (86 Kg)