Only a mere few weeks ago, the news about Taylor Swift and Calvin Harris's breakup went viral across the internet as well as in print worldwide. It was found that the 15 month long relationship ended on a professionally calm note when Calvin Harris tweeted this post breakup message for all his followers as well as Taylor regarding how his love and respect for her still remains.
But recently, on Wednesday,photos of Taylor Swift and Tom Hiddleston locking lips surfaced on the cover of The Sun.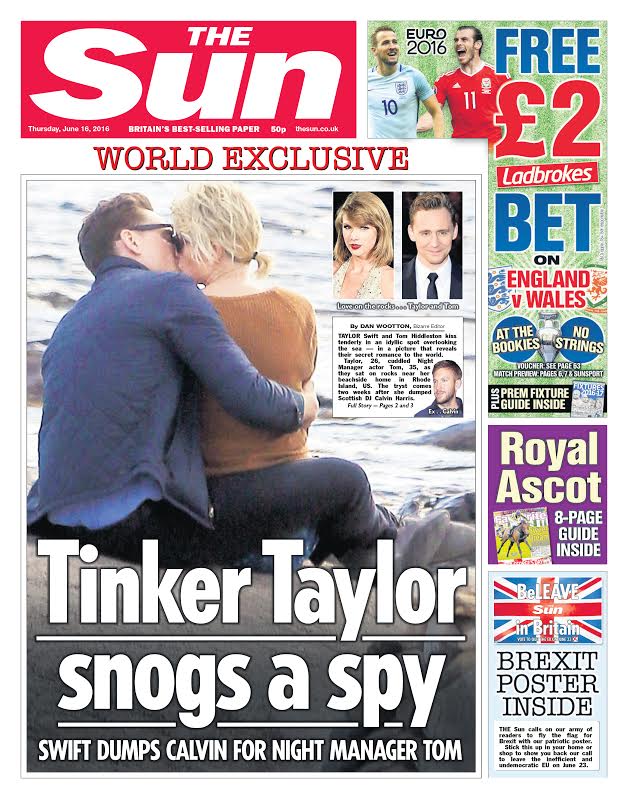 This in turn sparked a fierce social media feud between Swift and Harris when Harris unfollowed Swift (but not blocked), blocked a few of her fans and deleted the sweet break up tweet.
In its place he tweeted this ominous message to his followers and proceeded to delete it within a couple hours of tweeting it.
The reason for Harris's actions and childish behaviour could be placed to the fact that he already suspected his then girlfriend Taylor's involvement with Hiddlestonbefore the actual break up. Her recent declaration of wanting to remain single for a while before getting into another relationship entirely counters what has been spotted between her and Hiddleston not more than two weeks after parting ways with Calvin Harris!
In addition to this, Harris has taken down all of his instagram posts featuring the pop star including some of these well-loved clicks that many fans were agonised to have found removed
To combat Harris's hostility, Taylor also removed these iconic pictures from her instagram featuring what all her fans thought was a couple made in heaven.
This isn't all, the social media cleansing of their relationship has gone so far as to remove posts that are not exclusively regarding their relationships but even the posts related to friends and their work. Talk about a nasty turn for a break up!
Speculations are going on about whether sparks between Hiddleston and Swift had already begun to fly back in the beginning of May when they were both getting it down on the dance floor at the 2016 MET Gala. And many people are even considering the possibility that Taylor cheated on Harris before the breakup which led to his more aggressive reaction.