The IIFA has always been one the most prestigious award ceremonies in Indian cinema and is one event that nearly every celebrity takes out time to attend. But there are some celebrities who thoroughly take advantage of this opportunity to enjoy themselves and that is exactly what Ranveer Singh did this year!
The actor was seemingly in the kind of mood that would make you think he had smoked a joint before showing up at the red carpet with his bubbly and childlike excitement and exuberance.
It all started when he was talking to the press and fans on the side-lines when he saw Pakistani actor Fawad Khan walk onto the red carpet and burst into squeals and giggles in the same way any star struck girl would.  Not only were his female fans enjoying the show but they were also joining along in his star struck enactment and watched with delight as he started screaming Fawad Khan's name  in a shrill voice with a bunch of histrionics collectively doing what all his female fans would have died to do. Even Fawad played along with his act by staying composed with a smile plastered to his face as Ranveer ranted over his good looks and even came in a brisk hug.
Ranveer continued his bout of fun filled enjoyment with Fawad and proceeded to make a near standing Karan Johar feel very awkward with his uncalled for behaviour. He had been standing gape eyed and watching Ranveer's mimickery of Fawad's fans when he finally decided that he's had enough and that it was time to take a selfie but of course Ranveer just couldn't contain himself and continued to make Bollywood's original Karan feel flabbergasted by his behaviour.
And then there's the fact that given the options of the number of faces that Ranveer could have chosen to make in the selfie; he could have smiled, he could have pouted, but instead he chose to attempt a smirk that turned out looking like a the kind of smile someone would give when they were drunk.
The spell of craziness didn't end here as Ranveer made a childlike demand for undivided attention by the cameras and media when Karan Johar actually started talking to the media on a serious note. He startlingly stepped back in the middle of a conversation between Johar and the media and claimed that the cameras should solely be pointing in his direction.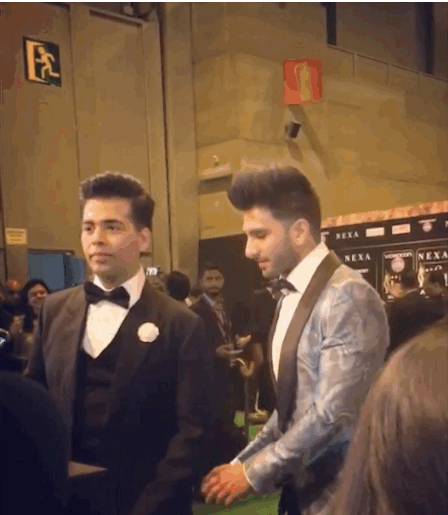 Later on in the night Sonakshi Sinha made an attempt to feature the unruly star on her Snapchat but he managed to evade all attempts as he hobbled around behind her with the agility and grace of a rabbit that she couldnt get to him to stand still long enough to click a picture!
Ranveer's antics didn't even come to an end on the stage when he was asked to receive his award for best actor for Bajirao Mastaani. At the same time, his better half; Deepika was called on the stage to receive her own award for Best Actress for the movie Piku and was seated in the single chair that was available at the moment. Instead of standing for a few moments and waiting for another chair to be placed, he made her scoot over and sat on the same chair right next to her!
Whatever was going on in this unruly and childlike actor's head, there is one thing that is certain. Ranveer sure knows how to enjoy himself and make the others around him smile too!